This article was written by Buildjaegersfans. Please do not edit the article without the creator's permission.
This is also supported by Perkyzombie.
Challenger Rex

Technical Information
Given Name
Challenger Rex
Nickname(s)
Brave Singa
Launch Date
2037
Classification
Mark lll
Status
tba
Country of Origin
Singapore
Jaeger Specifications
Height
250 feet
Weight
1800 tons
Speed
8/10
Strength
8/10
Armor
9/10
Battle Specifications
Equipment
Escape Pods,wrist mounted saw blades,dual shoulder missile pods
Operating System
Saturn COS-9
Energy Core
NFR-21
Weapons
Thundercloud and Missiles (10x)
Body Language
Crimson Typhoon
Power Moves
I-19 Cannons
Pilots
Daryl Lee(deceased) and Glenn Lee( Lee Brothers)
Kaiju Killed
7
Out-of-Universe information
Challenger Rex is a Mark-lll Jaeger and the second Jaeger built in Singapore.This Jaeger was built in response to the attack of the Kajiu, Hidoyoshi and it was completed in 2037.
After the attack of the Kajiu Hidoyoshi, the Singapore government was worried about the Kajiu coming back to attack Singapore again, so the construction of Challenger Rex began.
When it was completed, it was sent to Malaysia to kill a Category II Kajiu, code-name Craver. Challenger Rex managed to kill the Kajiu using the Thundercloud Formation.
After the day of New Year's Eve, a Category-4 Kajiu, code-name Blindreaper, emerged from the Indian Breach and was headed for Thailand. Then Challenger Rex and Orion Victor were deployed from the Phuket Shatterdome to kill the Kajiu. Although the Kajiu managed to damage Orion Victor severely, Challenger Rex manage to ambush the Kajiu and cut the head in half using its saw blades.
Downfall
Edit
Challenger Rex was task in defending Malaysia from a kaiju, code-named MN-Y34. When Challenger Rex found out it was Karloff, Challenger Rex killed it only to discover that the Precursors' Jaeger, Precursor Rex breached through and headed for Singapore. It then went to intercept it, but after one hour, Precursor Rex managed to defeat Challenger Rex, and later on Temasek Titan almost destroyed Precursor Rex. Then Precursor Rex was not seen for 16 years. Challenger Rex was taken back to Singapore.
Restoration
Edit
Challenger Rex was restored in 12/12/2054.
pacific Rim 2
Edit
coming soon
Kajiu killed
Edit
| Kaiju | Category | Date | Team |
| --- | --- | --- | --- |
| Craver | Cat. 2 | 12/11/2037 | Solo |
| Mutantbreak | Cat. 1 | 3/12/2037 | Solo |
| Blindreaper | Cat. 4 | 2/1/2038 | Orion Victor |
| Acroin | Cat. 3 | 23/2/2038 | Solo |
| Kruxus | Cat. 3 | 23/2/2038 | Solo |
| Toothjaw | Cat. 5 | 17/3/2038 | Solo |
| Karloff | Cat. 1 | 14/11/2039 | Solo |
| Kravet | Cat. 6 | 6/1/2055 | Orion Victor |
| HH-56 | Cat. 6 | 6/1/2055 | Orion Victor |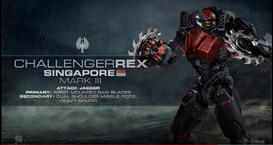 Challenger Rex
Technical Information
Nickname(s)
Reborn singa
Launch Date
2054
Classification
MK 3
Status
Destroyed
Country of Origin
Singapore
Jaeger Specifications
Height
258ft
Weight
1876tons
Speed
9
Strength
10
Armor
9
Battle Specifications
Equipment
same
Operating System
Saturn SAR-09
Energy Core
Duel Nuclear Vortex(hiden)
Weapons
same
Body Language
Gispy Danger
Pilots
Glenn Lee,Jovin Poh
Kaiju Killed
4
Out-of-Universe information