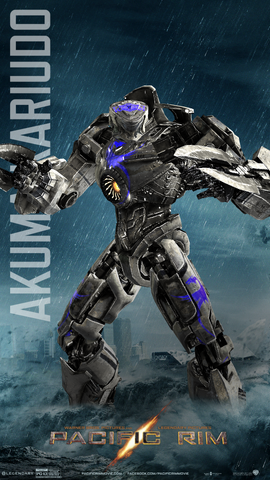 AKUMA KARIUDO CARBYNE FURY
Technical Information
Jaeger Specifications
Battle Specifications
Out-of-Universe information
CARBYNE FURY
Technical Information
Nickname(s)
Carbyne fury
Status
In development
Country of Origin
Japan
Jaeger Specifications
Height
91m
Weight
3114 tonnes
Speed
23
Strength
90+
Armor
90+
Battle Specifications
Energy Core
cold fusion supercell 6
Weapons
thermofuse sting blades
Out-of-Universe information
AKUMA KARIUDO
Technical Information
Given Name
AKUMA KARIUDO
Launch Date
not yet released
Classification
Super jaeger
Status
Development nearly complete
Country of Origin
Japan
Jaeger Specifications
Height
94m
Weight
2236 tons
Speed
28 normal

55 berserk mode

Strength
700+ when in berserk mode

90+ normal

Armor
700+
Battle Specifications
Operating System
quantum d wave
Energy Core
slow release antimatter annihilation cell
Weapons
thermofuse sting blades. Help prevent toxicity release via contact cauterization
Power Moves
Berserk-Fast release energy from antimatter annihilation cells. Only to be used for minutes at a time to limit potential radiation damage.

berserker blade storm

Out-of-Universe information
Description
Edit
Experimental Mach VIII jagers untested in combat. Created as the ultimate jaegers to combat the threat of superkaiju. The first and only jagers to be composed of a graphene-carbyne interlocked matrix molecular structure, giving great strength and speed. This molecular carbon matrix can be laced with nanocopper for protection from EMP bursts. The carbyne-graphene interlocked carbon matrix has a highly synergic stabilizing effect allowing it to be a material that can reassemble in the rare event of molecular breakage and making it 5 times stronger than carbyne alone which itself is hundreds of fold stronger than titanium. The lightweight structure allows for increased speed of movement and attack, giving an exponential boost in the kinetic energy of each physical strike.
Carbyne fury- is in development and may be deployed within 2 months. This version uses a cold fusion supercell. Mostly composed of Carbyne-Graphene save for structure of the power core. This jaeger although still very strong cannot match Akuma kariudo as not all of its structure is Carbyne-Graphene and is only as strong as the components within its power core allow it to be.
AKUMA KARIUDO (pictured)- is also in development and should be deployed within 6 months. Its speed increase is derived from a greater source of energy provided from a new and experimental slow release antimatter annhilation cell which should allow for even greater ferrocity than Carbyne fury. This jaeger is protected from EMP attacks as a result of the nanocopper that is interlaced within the molecular structure. Akuma kariudo is almost completely composed of Carbyne-Graphene  giving this jaeger incredible lifting strength and striking power. Unlike Carbyne fury this jaeger is not limited by structural weak points in its power cell.
Development of these two jaegers has been slow as a result of the rarity of the construction materials and the research involved in their molecular design and power cells. It is unlikely there will be any more jaegers built of this composition as the world supply of both carbyne and graphene have been depleted by this project.
Both Carbyne fury and Akuma kariudo are not equiped with long range weaponry and will rely on superior, close range physical combative ability.
Appears on these pages

of
This is the place to put any cool Jaegers you made if you don't want to make a full story, or...
File history
Click on a date/time to view the file as it appeared at that time.
Date/Time
Thumbnail
Dimensions
User
Comment
current
22:45, September 22, 2014
1,080 × 1,920

(4.05 MB)

Pumpkinbaby (Talk | contribs)
Reverted to version as of 13:18, September 22, 2014
22:33, September 22, 2014
1,080 × 1,920

(4.04 MB)

Pumpkinbaby (Talk | contribs)
13:18, September 22, 2014
1,080 × 1,920

(4.05 MB)

Pumpkinbaby (Talk | contribs)
13:11, September 22, 2014
1,080 × 1,920

(4.04 MB)

Pumpkinbaby (Talk | contribs)
13:10, September 22, 2014
1,080 × 1,920

(4.04 MB)

Pumpkinbaby (Talk | contribs)
06:15, September 20, 2014
1,080 × 1,920

(3.98 MB)

Pumpkinbaby (Talk | contribs)
06:13, September 20, 2014
1,080 × 1,920

(3.98 MB)

Pumpkinbaby (Talk | contribs)
22:46, September 18, 2014
1,080 × 1,920

(4.01 MB)

Pumpkinbaby (Talk | contribs)
14:43, September 18, 2014
1,080 × 1,920

(3.79 MB)

Pumpkinbaby (Talk | contribs)
13:48, September 18, 2014
1,080 × 1,920

(3.54 MB)

Pumpkinbaby (Talk | contribs)